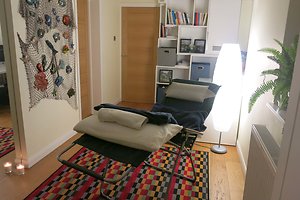 Treatments
Before the first session a confidential medical consultation will take place that will cover your life style as well. This consultation is free of charge and takes about 15-30 minutes depending on your health status.

All reflexology sessions are tailor made according to what the reflexes reveal on the day. Foot reflexology generally takes about an hour, hand reflexology about 30-35 minutes.

Please note that there are a few contraindications.


Prices and Payment
One session:
£ 45 / 1 hour
£ 35 / 30 minutes

Treatment packages:
£ 85 / 2 x 1 hour
£ 165 / 4 x 1 hour
£ 230 / 6 x 1 hour

£ 65 / 2 x 30 minutes
£ 125 / 4 x 30 minutes
£ 180 / 6 x 30 minutes


OAP discount available for 65 year olds and over. Please ask for details.

All to be paid in full and in advance.

Treatment packages have an expiry date, to be confirmed at your first session.

Prices are valid from 4th April 2021 and subject to change at any time.

Payment options
Bank transfer or cash payments are accepted.

Book Now

Alternatively you can email me, call or text me, you will find my number in the side bar. If I don't answer the call that is because I am treating someone. Please leave your name and number slowly and clearly and I will call you back as soon as I can.
How many treatments do I need?
It is the cumulative effect that sees results. Just like one doesn't get an abdominal six pack by going to the gym only once.

For an acute condition a course of 4 one-hour treatments are recommended at weekly intervals. During these treatments the deep state of relaxation will ensure that the body reaches its maximum innate healing potential to rebalance itself. Once this optimal state is achieved treatments can become more spaced out.

For chronic conditions the length of a session, the frequency and the length of the course of treatments may be different depending on many factors, primarily on how long this chronic condition has been presenting itself and how your body reacts to treatment.

N.B. It is possible to have the treatments less frequently than every week from the start, but it will take longer to achieve good results.

Cancellation Policy may apply
As I am sure you can appreciate my time is my business so I kindly ask you to let me know at least 24 hours prior to your session if you need to cancel so someone else can take your appointment time. However I recognize that sometimes it is not possible, not to worry, the first one is on me.
Nevertheless I appreciate if you let me know that you cannot attend even if your notice is less than 24hrs.

Late arrival: your treatment will have to be shorter if I have a client booked in right after you, but I will still charge you the full fee or you can postpone your session.

Medical and Health Insurance
My training and my AOR membership allows the reflexology treatments to be reclaimed by Private Health insurance and medical cash back schemes such as BUPA, Paycare, Medicash, Sovereign, Simply Health, Healthshield Cash Plan.
Please do check the policy details of your individual cover .

Gift Vouchers available
Gift Vouchers have an expiry date, 3 months after purchase date. They are transferable, you can share them with friends or family. If this is the case then please let me know in advance otherwise I cannot accept the transfer.

Back to the top of this page.